While many folks in the medical community dismiss chiropractors as too alternative or ineffective, nearly 60% of people suffering from back pain claim they get badly needed relief from this kind of treatment.

Over time, chiropractic treatments for back pain may make a difference and are just as effective as pain medication. The difference, however, is that painkillers don't eliminate the problem -- they just cover up the symptoms, whereas, spinal realignment, which forms the foundation of chiropractic care, can get to the root cause and fix an irritated nerve.

Many people worry that if they see a chiropractor once they'll have to go back forever. However, there are many kinds of chiropractic care, and some cases can be treated in as little as one to two sessions. Often, the first phase of chiropractic care is to get you out of pain, while the second phase is to correct the problem, such as learning exercises.
Continue Learning about Back Pain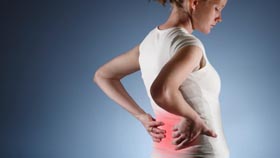 Just about everyone has experienced some level of back pain. It is one of the most common ailments brought on by disease, injury, or misalignment of the spine. It can be a dull muscle ache in the lower back or a severe, sharp pain ...
in that affects your ability to bend over or stand up straight. Most often back pain results from strained muscles and ligaments that surround the spine, but it can also be caused by structural problems with the bones of the spine. There are treatment options for back pain, and understanding the causes and symptoms is key to preventing it in the first place.
More