To determine if back surgery is needed, patients are examined for weakness and pain and x-rays are taken. In this video, Ashley Davis, PA, of Ocala Regional Medical Center explains how the diagnosis is made.
Spine surgery should be considered when a person has the correct symptoms with the pathology that seems to be causing the symptoms. Oftentimes, surgeons require imaging such as x-rays, computed tomography (CT) scans and magnetic resonance imaging (MRI) scans to understand what the anatomy is in the body, and then to understand the pathology at hand. Once surgeons understand the pathology, then they can try to connect the dots and find out if the symptoms that the person is experiencing are actually coming from the pathology that they see.
Oftentimes, imaging shows a lot of different things that may or may not be causing symptoms. So, it's up to the surgeon to figure out from the person if all of that's associated. It requires a detailed history with a good physical examination, as well as understanding the imaging to come up with a good diagnosis. Once they come up with a good diagnosis, surgeons can have an idea of what the options are with surgery.
Continue Learning about Back Pain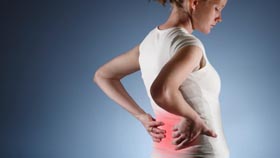 Just about everyone has experienced some level of back pain. It is one of the most common ailments brought on by disease, injury, or misalignment of the spine. It can be a dull muscle ache in the lower back or a severe, sharp pain ...
in that affects your ability to bend over or stand up straight. Most often back pain results from strained muscles and ligaments that surround the spine, but it can also be caused by structural problems with the bones of the spine. There are treatment options for back pain, and understanding the causes and symptoms is key to preventing it in the first place.
More