It's not uncommon for backaches to interfere with lovemaking. Here are a few suggestions that might be helpful:
Talk openly with your partner about your concerns.
Avoid bending your spine backward. Try to keep your spine straight or bent slightly forward.
When bending forward, be sure to bend your knees. Bending forward while keeping your knees straight puts a lot of pressure on your lower back.
Avoid lying on your stomach or your back with your legs flat on the bed and extended straight out. If you can, keep your hips flexed to take some pressure off your lower back.
Try positions that are easier on your back, such as lying on your side with your hips and your knees slightly bent.
Be judicious and gentle. If your back is bothering you, don't aim for long, vigorous, gymnastic lovemaking.
Make love in the water -- in a pool or hot tub -- can take some of the stress off your back, because water is buoyant and offers support.
Be patient. Don't try to resume sex too soon after having a backache. If you find that your back hurts when you resume sexual activity, wait a few days before trying again.
Continue Learning about Back Pain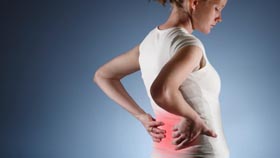 Just about everyone has experienced some level of back pain. It is one of the most common ailments brought on by disease, injury, or misalignment of the spine. It can be a dull muscle ache in the lower back or a severe, sharp pain ...
in that affects your ability to bend over or stand up straight. Most often back pain results from strained muscles and ligaments that surround the spine, but it can also be caused by structural problems with the bones of the spine. There are treatment options for back pain, and understanding the causes and symptoms is key to preventing it in the first place.
More