Smoking can increase your risk for developing back pain. Smoking can damage the blood vessels that supply adequate blood to your spine, minimizing blood flow to the area. In this way, smoking may speed up the natural aging of structures in your spine, such as the discs, causing them to dry out and crack, leading to pain.
Continue Learning about Back Pain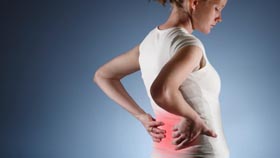 Just about everyone has experienced some level of back pain. It is one of the most common ailments brought on by disease, injury, or misalignment of the spine. It can be a dull muscle ache in the lower back or a severe, sharp pain ...
in that affects your ability to bend over or stand up straight. Most often back pain results from strained muscles and ligaments that surround the spine, but it can also be caused by structural problems with the bones of the spine. There are treatment options for back pain, and understanding the causes and symptoms is key to preventing it in the first place.
More