Back pain is one of medicine's true anatomical enigmas. As common as back pain is, it's often difficult—if not impossible—to diagnose what caused it. In fact, some of the diagnostic testing that doctors use, like MRIs, only makes the medical mystery more confusing. Some people with lots of symptoms have normal or near normal MRIs, and some people with MRIs that would seem to suggest terrible back pain have absolutely no pain at all. About 20 percent of people younger than 40, and at least 50 percent of people older than 50, have MRI or CT scan (diagnostic tests used by docs) evidence of degenerated spines and disc abnormalities. But not all of them have pain, making an already complex and hard-to-diagnose issue even tougher.
Fortunately, pinpointing the exact cause of a back breakdown isn't the important thing, since most back pain can be alleviated with the right therapy. Many times, there's no need to push your doc for a definitive answer about the cause. He'd be guessing with the expertise of a Las Vegas oddsmaker—an educated guess, but there's still a lot left up to chance. Focus instead on what you can do to alleviate the pain and prevent it fromcrippling you again. The real key is having some level of postural intelligence—that is, being aware of your posture and the muscles in your trunk, so that you can not only support your back, but also prevent other structural damage, such as to your joints.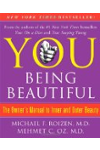 Many patients are fixed solely on what medical imaging says structurally about their spine and how it causes their back pain. This could be a herniated disc, degeneration or stenosis. Patients should understand that other factors can cause back pain as well. This can include poor muscle control and movement patterns, nerve pain, referred pain from muscle trigger points, and even the fascia around the back can cause pain. Food allergies or internal organ dysfunction can cause symptoms in the back.
Even pain itself is a mystery. Over the last decade there has been growing research on what pain is and how it presents itself. Although we have a better understanding of pain, there is much more we need to know in how to treat it—especially in the back.
Continue Learning about Back Pain