Pill-Free Back Pain Treatment
Looking for a pill-free way to ease back pain? A survey recently revealed the top six. And none of the alternative therapy methods for back pain treatment requires surgery.
They are chiropractic care, massage, acupuncture, herbal therapy, relaxation training, and stretching-based Eastern exercises (think yoga and tai chi).
Ache-Alleviating Alternatives
In a large national survey, 60% of people who had used one of these alternative therapy methods in the previous year said that it brought them a "great deal" of relief from their low back pain. And, in fact, more was better. People who used a combination of one or more of these therapies tended to experience even greater back pain relief compared with people who used just one. (Related: Discover what dangerous health condition may be ameliorated by massage.)
Ask Your Doc First
Whether your low back pain is mild or much more problematic, you'll want to check with your doctor before trying any new form of exercise or alternative therapy for back pain treatment. Depending on your situation, certain alternative treatments could aggravate things rather than provide relief. But it's worth asking, because more and more people are seeking -- and getting -- pain relief from complementary and alternative therapy.
Got an achy back? Here are two tricks you can try on your own:
Inform yourself. Learn all you can about back pain with this online health guide.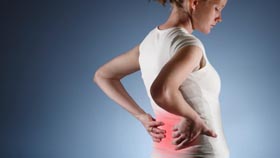 Just about everyone has experienced some level of back pain. It is one of the most common ailments brought on by disease, injury, or misalignment of the spine. It can be a dull muscle ache in the lower back or a severe, sharp pain ...
in that affects your ability to bend over or stand up straight. Most often back pain results from strained muscles and ligaments that surround the spine, but it can also be caused by structural problems with the bones of the spine. There are treatment options for back pain, and understanding the causes and symptoms is key to preventing it in the first place.
More