To correct spine flexion problems try the following stretches:
Hamstring stretches
Hip flexor stretches
Low-back stretches
Latissimus dorsi (large back muscle) stretches
In addition, you'll want to incorporate some core strengthening exercises such as wall slides, bridges, or planks.
A spine that is rotated to one direction is the primary feature of rotation problems. Rotation problems often stem from poor habits that contribute to asymmetrical weight-bearing or rotation.
The following are some spine correction exercises for rotation problems:
TFL (tensor fascia lata) and Quadriceps Stretch stretches key pelvic muscles that affect pelvic rotation and contribute to back pain. It also develops lower abdominal strength to resist pelvic rotation caused by tight thigh or pelvic muscles.
Wall Slides retrain your lower abdominal muscles to support optimal spinal mechanics.
All-Fours Rocking Stretch passively restores normal pelvic and spinal mechanics.
Heel Slides and Knee Wobbles develop core muscles for greater control of the lower spine.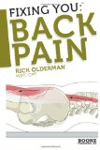 Continue Learning about Back Exercises