A flexion problem occurs when the spine bends forward too easily or bends excessively at one or two vertebrae instead of evenly along the entire spine. People with these issues typically lack pelvic flexibility.
The following are some spine correction exercises for flexion problems:
Hamstring Stretches lengthen tight hamstrings that prevent pelvic flexion and train the spinal extensors to work better.
Wall Slides retrain your lower abdominal muscles to support optimal spinal mechanics.
All-Fours Rocking Stretch passively restores normal pelvic and spinal mechanics.
Heel Slides develop core muscles for greater control of the lower spine.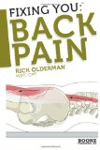 To correct spine flexion problems try the following stretches:
Hamstring stretches
Hip flexor stretches
Low-back stretches
Latissimus dorsi (large back muscle) stretches
Continue Learning about Back Exercises