Here is a good low-back excercise for beginners: Lie on your stomach on a bench, with your upper body hanging over the end. You'll need some way to secure your ankles, which may mean having a friend on hand to hold them. If you have access to a gym, the "back extension" bench will do the same thing. Fold your hands against your chest and then raise your upper body slowly, as if curling backwards. Go as far as you can, hold a beat, and lower. Repeat as many times as you can. To make it a little tougher, fold your hands behind your head. Because you need a balance of strength between the low-back muscles and the abdominals to support your spine and prevent injury, it's a good idea to do ab exercises with the low-back exercises.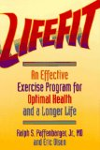 The quadruped opposite arm/leg raise (aka bird dog) is a great exercise to help strengthen your lower back.
Start on all fours, with your spine in a neutral position.
Draw your abdominal inward by pulling your belly-button towards your spine.
Slowly raise your right arm (thumb up) and your left leg with toes pointed away from the body. Keep both arm and leg straight while lifting them to body height.
Hold for one to two seconds
Slowly return both arm and leg to the ground, maintaining optimal alignment.
Repeat alternating sides, as instructed.
If the exercise is too difficult raise each arm or leg independently.
Continue Learning about Back Exercises