The extension stretch exercise helps improve lower spine extension, thereby decreasing pain associated with excessive flexion. While sitting in a chair or standing, bring both hands to the base of your lumbar spine to support your back. Gently arch your spine into extension by equally tilting your pelvis forward. Repeat as often as necessary.
Common mistakes when doing the sitting or standing extension stretch exercise include:
Exclusively using your spinal muscles to achieve the extension can initially increase pain. Begin gently and passively first, and decide to use the back extensor muscles only after you have determined that this exercise doesn't increase your pain.
Extending your head too far back while extending your spine can cause neck pain. If you're doing this, you may be trying too hard.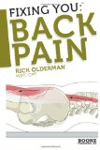 When performing this stretch avoid excessively hyper extending your spine. Additionally stop the exercise if you feel pain. You should feel a slight stretch in your abdominals, not spinal pain. Lastly, make sure you breathe normally and avoid holding your breath.
Continue Learning about Back Exercises