Common errors when doing the hand on head exercise -- which activates the upper trapezius muscle (located between shoulder and neck) to elevate your scapula (shoulder blade) and relax the levator scapula -- include:
Pain in your shoulder might be caused by some impingement (pinched or compressed tissue, usually between two bones) at the shoulder joint due to improper scapular mechanics. In this case, try bringing your elbow forward so it is pointing in front of you.
If this still hurts, then perhaps you are not adequately contracting the upper trapezius muscle. Tap it to connect your awareness to the muscle.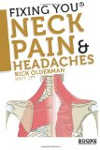 Continue Learning about Back Exercises