Place both hands in your lower back region (lumbar spine). From this position gently extend your spine and push your hips forward. Hold this position and return to the starting position. Repeat as desired.
The extension stretch exercise helps improve lower spine extension, thereby decreasing pain associated with excessive flexion.

While sitting in a chair or standing, bring both hands to the base of your lumbar spine to support your back. Gently arch your spine into extension by equally tilting your pelvis forward. Repeat as often as necessary.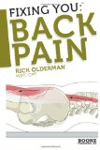 Continue Learning about Back Exercises