Some example exercises inlcude back extensions and cable rotations.

[media id="DEV__4c7e54da442d56_20929606" title="Cable Rotation - M"]

[media id="DEV__4c7e45cf1c3c05_12433887" title="Ball Back Extension with Rotation - F"]


For lumbar rotation exercises, start from a forward-facing seated position. Slowly turn your chest and shoulders as if you are trying to look behind you. Turn only as far as you comfortably can, and be sure not to lean to the side as you turn. When you feel tightness or pulling on the opposite side, or compression and pinching on the same side, stop and hold that position for three to five seconds before coming back to the neutral position. Repeat this five to seven times, trying to notice a slight increase in the movement with each repetition. Keep in mind that you are not trying to stretch the muscles of your lower back, you are only trying to get some gentle movement in the joints. Then turn your chest and shoulders in the opposite direction, carefully completing another five to seven repetitions. Once you have finished the rotation exercise to each side, you can combine them into one smooth motion. Gently complete the entire cycle five to seven times.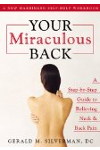 Continue Learning about Back Exercises