The knee wobbles exercise improves the lower abdominals' ability to stabilize against pelvic rotation.
Lie on your back with knees bent, flattened lumbar spine (except with flexion problems), and hands on your hip bones (anterior superior iliac spines (ASISs) to monitor movement. Those with flexion problems will, of course, want to maintain some spinal extension either by using a towel under the lower back or by controlling the spine with your back extensor muscles. Engage your lower abdominals by drawing your belly button in toward your spine and/or exhaling by pushing your belly button toward your spine. Slowly lower one knee out to the side, monitoring the opposite hip for movement with your fingers. Be sure your hip does not rise up into your hand. Stop at the point where the hip rises. Inhale, then exhale to either lower your knee further -- without hip movement -- or return back to the starting position. Repeat on the opposite side.
Always alternate legs when doing Knee Wobbles to re-establish a pelvic baseline. If you continually work on the same side, then the opposite hip will gradually rise, and you won't know it. If you notice that one hip stays down more easily than the other, it could mean you have a rotated pelvis.
Common mistakes when doing the knee wobbles exercise include:
If one hip keeps coming up too soon, keep trying to stabilize using your lower abdominals. Do not under any circumstances allow the hip to come up, as doing so reinforces the pelvic rotation.
If you feel the hip stay down, but when you return, you feel the hip lower back toward the floor, then the hip is creeping up without you being aware of it. Develop your sensitivity to discern this movement.
Stabilizing the pelvis by pressing the opposite foot into the floor defeats the purpose of the exercise. You are supposed to develop abdominal strength to control the pelvis. Instead, keep the leg relaxed; use your abdominals to stabilize.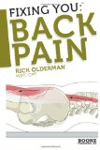 Continue Learning about Back Exercises