To perform heel slides:
1. Lie on your back on floor with knees bent, feet flat, toes pointing straight ahead and arms by your sides.
2. Draw abs inward by pulling your navel towards your spine. Hold this position throughout the exercise.
3. Slide one foot away from you extending your knee and hip.
4. Slowly return to the starting position.
6. Repeat on the opposite leg.
The heel slides exercise develops abdominal control of the lower spine. To do the heel slides exercise for extension problems:

Your starting position will depend on how much pelvic flexion you need to keep your spine flat on the floor and reduce your pain. Some people will be able to begin with both feet on the floor, while others will need to begin by holding both knees to their chests. Try several positions and assess how your back feels in each to determine your best starting position.

Beginning with knees to chest: Hold your right knee with your hands. Inhale, then exhale while drawing in your belly button as you lower your left leg (knee bent at 90 degrees) and foot to the floor; stop if you feel pain or if you feel your back is arching off the floor. Inhale, then exhale as you draw your belly button in toward your spine while raising your leg back up. Switch hands to the left knee, exhale again and allow your right foot to slowly lower to the floor. Stop when you feel changes associated with losing the ideal spine position mentioned above. Inhale, then exhale to return back up. Repeat until fatigue sets in, you feel pain in your lower back, or you cannot control your spine. To progress this exercise, try not holding the opposite knee to your chest while lowering the leg. See if you have the strength to control the spine without using your arms to help. Gradually work toward starting with both feet on the floor (described below).

Beginning with both feet on floor: Draw your belly button in toward your spine and exhale while sliding your left foot away from you. Maintain the weight of your leg on the floor (do not lift your leg off the floor). Stop if you feel back pain or feel your lower back arching up from the floor. You can monitor this by putting your fingers on either side of your lower spine to sense whether it is arching. Once you've reached the point where you feel pain or your lower back arches, stop and inhale. Exhale while sliding your foot back to a bent-knee position. Repeat on right side. Continue alternating sides until you experience back pain or fatigue or you cannot maintain a flat spine. To progress this exercise, gradually begin with both feet further from your body until both legs can be fully extended while your lower spine is either flat, controlled, or pain free.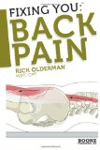 Continue Learning about Back Exercises