The forward bend stretch exercise relieves strain to the lower spine by stretching tight back extensor muscles.

Sitting in a chair, scoot to the edge and bend forward, stretching your lower back. Walk your hands down your legs to support your trunk. Stop if you feel any pain. Flex forward, rounding your spine to the point where you feel a stretch but no pain. This should feel good if you have extension problems. Many people will experience pain when returning from the flexed position, so walk your hands up your legs, if necessary, to help your trunk return to an upright position. While coming back up, hollow out your stomach by drawing in your belly button, maintaining the lumbar flexion as long as possible. Visualize that you are stacking one vertebra at a time, beginning at the pelvis, as you return to an upright position. This will help you maintain a flexed spine and will therefore be less painful. Perform 1 to 3 repetitions or as many as it takes to eliminate your pain and re-establish a better spinal posture.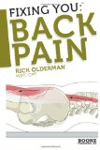 Preparation
Sit on a chair using erect posture.
Extend one leg and place heel on floor.
Movement
Draw belly button inward.
Lean forward at the hips until a slight stretch is felt in the back of the extended leg.
Hold for 30 seconds.
Switch sides and repeat.
Continue Learning about Back Exercises