When most people think about lower back stretching, they picture an extensive routine of bending, leaning, turning, and twisting. And although that kind of stretching will decrease symptoms, unless it is site specific, it won't make any permanent changes. It is much more desirable to perform a few directed stretches that target an offending spasm or adhesion than it is to spend extended time on less effective general stretches.

The goal of directed stretching for your lower back is to reveal the combination of movements that most closely reproduces your symptoms. If you are unable to stand or you are in a significant amount of pain, you can do the forward-bending exercises sitting at the front edge of a chair. Otherwise, begin standing with your feet shoulder-width apart. Initially, it is okay to bend your knees, since this may help you achieve a bit more forward bending. Until you become comfortable with the stretching, you may also want to lean on the back of a chair for additional support. The first repetition of any stretch should be always be slow and gradual, adding a bit more movement with each successive stretch. Do not overdo it by trying to accomplish too much too soon.

Start by slowly rounding your back forward from your shoulders, and then eventually from your waist. The farther down you bend, the more pain or pulling you will feel. Instead of forcing yourself to bend forward, try to relax your back as you go and let gravity do the work. This should allow you to bend a little easier and stretch a bit farther. If you reach a point where you can't possibly go any lower, or the pain is about to take your breath away, stop and hold the position for ten to twenty seconds. You may notice a strong pull in the muscles parallel to your spine and in your upper buttock. Now, slowly ease your way to an upright position again, leaning on a chair or bending your knees if you need to. Take a few steps around the room, and then repeat this procedure seven to ten times.

You may be able to enhance stretching of the lumbar muscles by keeping your arms behind your back when you bend forward. This helps pull your shoulders back and should isolate the upper lumbar muscles.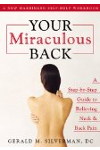 Several stretches can target the low back and help improve range of motion of this area. Foam rolling the low back, hip flexors, and gluteal region will relax muscles of the low back and pelvic area, static stretches like kneeling hip flexor stretch 90-90 hamstrings and t stretch will relax and elongate tightened muscles in this region. Perform each stretch for 30-60 seconds to achieve maximal benefit.
Continue Learning about Back Exercises