There are three exercises that can help keep your spine in shape: The Eagle, The Hummingbird and the Butterfly.
The Eagle:
Stand up tall and straight. Put your arms straight out and pull your shoulders together in the back.
Breathe air in and slowly raise your arms until your hands touch together over your head.
Breathe air out and slowly lower your arms to your side.
Repeat three to five times.
The Hummingbird:
Stand up tall and straight. Put your arms out to the side with your hands up and pull your shoulders together in the back.
Make small backward circles with your hands and arms.
Bend at your waist from side to side while you keep the circles going.
Keep it going while you count to 10.
The Butterfly:
Stand up tall and straight. Put your arms behind your head and gently pull your elbows backward.
Slowly and gently press your head against your hands while you count to two.
Relax and breathe.
Repeat this three times.
Please keep in mind that if an exercise hurts, don't do it!
Core training is an excellent method for training your spine. Numerous studies support the role of core training in the prevention and rehabilitation of low-back pain. In addition, exercise programs that include specific core stabilization training tend to be more effective than manual therapy alone (e.g massage) or traditional medical management (pain relievers) for reducing and preventing general back pain. Individuals with low-back pain have a decreased chance of injury, less recurrence of injury, and improved performance measures after undergoing an active rehabilitation program aimed at improving strength and coordination of the core muscles (muscles that support your spine and pelvis). Some common exercises include bridges, lateral tube walking, planks, and bird dog.
Regardless of what you may have heard, it doesn't really matter what exercise you do, as long as you get some movement and stimulation into your spine. If you have been sedentary for a while, a modest walking program -- perhaps a ten- to fifteen-minute daily stroll -- is a great place to start. Each week, try to extend your time by a few minutes, until you can comfortably walk thirty minutes without stopping. The goal is to effectively exercise your spine without stressing yourself physically or mentally. I recommend you go about it in a relaxed manner. If you eventually feel like picking up the pace, it should help your cardiovascular system, but the faster rate will make no difference to your spine.

The major reason people stop exercising is boredom, so it is a good idea to select two or three different routes for your walk. Anything you can do to help change the program will help keep your interest. If you are like most people, once you start enjoying the benefits of exercising, you'll actually look forward to doing it. Other great exercises for your spine include swimming, dancing, moderate jogging, tai chi, yoga, or Pilates. All of these routines are excellent daily activities to help avoid chronic pain and maintain good spinal health. Although they do not take the place of the directed stretching or range of motion exercises, they are beneficial supplements.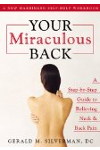 Continue Learning about Back Exercises