Many parents choose the axillary (armpit) as a screening tool to check their baby's temperature. The most accurate temperature measurement device for infants is the rectal thermometer.
Rectal temperatures are the most accurate and preferred method in newborns. Although the idea may seem uncomfortable to you, it won't hurt your baby.
Just coat the end of the thermometer with a lubricant (such as water-based K-Y Jelly or petroleum-based Vaseline) and insert about half an inch (follow the instructions for your particular thermometer).
Digital thermometers provide a quick, fairly accurate reading—within a minute you'll know your baby's temperature.
If the thermometer reads 100.4°F (38°C) or higher, your newborn has a fever, which may sometimes indicate a serious infection.
Although most newborn fevers are not serious, little ones can get very sick very quickly and should be evaluated as soon as possible—even if it means a trip to the emergency department in the middle of the night!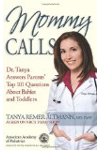 Continue Learning about Baby's Physical Health