At the 12, 15 and 18 month checkup visits, the doc will get vital statistics such height, weight, and head circumference, and she will ask about language development and interactions with others.
At twelve months, your baby's weight should be three times his birth weight. The doc will ask about feeding, the transition to whole milk (happens around twelve months), peeing and pooping (always favorite topics), safety and exploration, and developmental milestones. By twelve months, most kids have mastered the fine pincer grasp: the art of picking a small object up between finger and thumb. First steps usually occur at about a year, but anywhere between nine and eighteen months is normal, and the doc will look for that toddler gait: tummy out, butt out, toes often out but occasionally in, and flat feet. (The fatty pad under toddlers' arches subsides by around two years.) With heightened mobility comes greater safety concerns, and the pediatrician will make sure you really have childproofed high and low. Plus, he'll be getting shots.
And, somewhere between twelve and eighteen months, he'll have a blood test for lead and another for a hemoglobin or hematocrit (measurement for anemia). This is an easy blood draw that may cause you more angst than him; he'll cry for a second, then forget about it.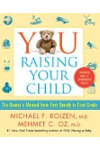 Continue Learning about Baby's Physical Health