Will a baby develop normally if he isn't breastfed?
Breastfeeding gets all the glory but not every new mom can nurse. In this video, integrative medicine specialist Dr. Robin Miller explains why babies who are fed formula do just fine.
Continue Learning about Baby Feeding & Nutrition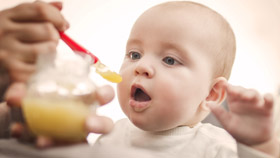 Whether your breastfeed or bottle feed your baby, making sure he or she gets the right amount of calories and proper nutrition is essential to proper development. Spoon-feeding baby solid foods usually begins at around 6 months ol...
d. Work with your pediatrician to introduce new foods and discuss issues like spitting up or refusing foods.
More