The Food and Drug Administration requires all infant formulas sold in the United States to contain strict amounts of protein, fat, carbohydrates, and many other nutrients. These provide the nutrition babies need to grow.
Some formula brands have extra nutrients. These can include:
Iron. Almost all formulas now contain extra iron. The American Academy of Pediatrics recommends it for most babies.
Docosahexaenoic acid (DHA) and arachidonic acid (ARA). These are types of fat found in breast milk. Studies show that these fats aid in eye and brain development.
Hydrolyzed whey protein. This protein is broken into smaller bits so your baby can digest it more easily. Studies suggest it may help prevent allergies in babies who have a family history of them.
Probiotics and prebiotics. Probiotics are helpful bacteria that are similar to those normally found in your body. They may help with digestion and protect against harmful bacteria. Prebiotics are food ingredients that may help digestion. More research on these benefits is needed.
Continue Learning about Baby Feeding & Nutrition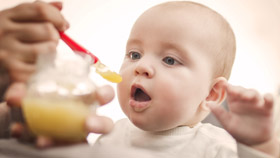 Whether your breastfeed or bottle feed your baby, making sure he or she gets the right amount of calories and proper nutrition is essential to proper development. Spoon-feeding baby solid foods usually begins at around 6 months ol...
d. Work with your pediatrician to introduce new foods and discuss issues like spitting up or refusing foods.
More