There are a growing number of great resources both on and off-line for making delicious, nutritious baby food.

Feeding Baby Green features not only easy recipes, but also the key windows of opportunity for developing our children's eating habits using not just taste, but all of the senses.

It details a totally new approach to cultivating age-appropriate abilities to recognize and enjoy healthy amounts of great food, during critical moments of development.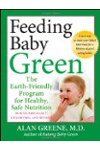 Continue Learning about Baby Feeding & Nutrition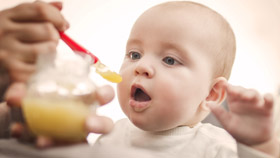 Whether your breastfeed or bottle feed your baby, making sure he or she gets the right amount of calories and proper nutrition is essential to proper development. Spoon-feeding baby solid foods usually begins at around 6 months ol...
d. Work with your pediatrician to introduce new foods and discuss issues like spitting up or refusing foods.
More