Back pain can be caused by a variety of reasons. The most common causes of back pack and injuries are due to poor posture and muscle imbalances. If you have back pain when performing twists this is likely due to the muscles around that area is excessively tight or weak causing the spine and back to not move properly. If you are experiencing back pain when you perform twists consult a physician or medical professional to ensure there is not some underlying serious medical condition causing your back pain.
There are many variations of the lunge. Different lunge variations may require strength in different areas, but all variations stretch the hip flexors (front hip) on the back leg. If you are overarching the low back, rather than dropping the tailbone and lifting the front of the pelvis, you may crunch the low spine. I like to talk to my clients about drawing in the core to help support the low back and lift the front pelvis in a lunge. Also bringing your chest forward, more over your front leg, can help relieve the back.

Continue Learning about Avoiding Pain & Injury During Exercise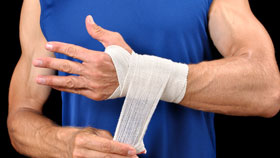 Whether you are involved in aerobics, jogging, cycling or team sports, there are many things you can do to prevent injuries during exercise. Avoid sore arms, leg cramps, muscle spasms and pains by performing warm up exercises. Thi...
s is a must so you don't have tight stiff muscles, increasing your chance of muscle injury. Avoid overexertion; exercise at a pace that is comfortable for you. Learning correct posture and form can also prevent your muscles being used in an awkward way.
More