If it is just because of doing crunches and not an injured back, try drawing in your belly button to help stabilize your spine, keep your chin in alignment with your chest (not up and not tucked), flatten your back when coming up and your focal point should be where the wall meets the ceiling, not your knees. Try coming up just a couple inches off the floor to start with until the smaller muscles around your spine are built up. Remember every exercise is progressive.
Crunches should not cause your low back to hurt. If you repeatedly have pain while performing crunches, cease the activity and seek physician consultation. When performing a crunch the low back will round. When the lower back rounds it has the potential to push fluid from the intervertebral disc space out and may compress the nerves. A few good alternative core exercises you can try are prone iso-abs or planks, ball bridges, stability ball marching, the quadruped drawing in maneuver, and dying bug exercises. These will all work the abdominals and should reduce low back pain.
This is very common. To decrease any discomfort in your low back, sit up taller and try a support under the tailbone. This can help support and stabilize the spine and pelvis without losing any connection to your core. At barre3 we use a fit ball under the tailbone. A small, firm pillow or a rolled-up blanket can do the trick too. If that doesn't relieve your back, you can try isometric exercises, such as plank with a long spine.

Continue Learning about Avoiding Pain & Injury During Exercise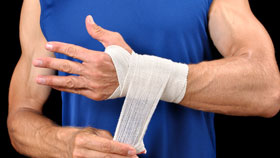 Whether you are involved in aerobics, jogging, cycling or team sports, there are many things you can do to prevent injuries during exercise. Avoid sore arms, leg cramps, muscle spasms and pains by performing warm up exercises. Thi...
s is a must so you don't have tight stiff muscles, increasing your chance of muscle injury. Avoid overexertion; exercise at a pace that is comfortable for you. Learning correct posture and form can also prevent your muscles being used in an awkward way.
More