The back has three different curves in it which are meant to be there. These curves are controlled by the muscles of the spine and upper and lower back. If you have an excessive curve in a certain part of the back it may be due to a muscular imbalance. Even with normal muscular function your spine is meant to have some curve in it even when you fold over during exercise.
Likely it is because your hamstrings, the back of your legs, are tight. It is more important to keep a long spine when folding over. You don't need fancy props to do this, just bend your knees. Work towards a long spine as the backs of your legs open up.

Continue Learning about Avoiding Pain & Injury During Exercise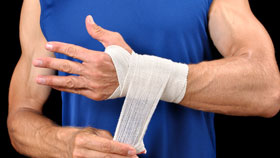 Whether you are involved in aerobics, jogging, cycling or team sports, there are many things you can do to prevent injuries during exercise. Avoid sore arms, leg cramps, muscle spasms and pains by performing warm up exercises. Thi...
s is a must so you don't have tight stiff muscles, increasing your chance of muscle injury. Avoid overexertion; exercise at a pace that is comfortable for you. Learning correct posture and form can also prevent your muscles being used in an awkward way.
More