Weekend-warrior injuries can occur for a variety of reasons, including poor physical conditioning and flexibility, failure to warm up and stretch muscles, competition intensity, participation in collision and contact sports and overuse of joints. The most common injuries include sprains, strains, fractures, dislocation and inflammation. That means doctors see people with sprained ankles, shin splints, rotator cuff injuries, Achilles tendonitis, lower-back pain, plantar fasciitis (heel pain) and knee pain.
Continue Learning about Avoiding Pain & Injury During Exercise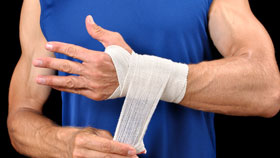 Whether you are involved in aerobics, jogging, cycling or team sports, there are many things you can do to prevent injuries during exercise. Avoid sore arms, leg cramps, muscle spasms and pains by performing warm up exercises. Thi...
s is a must so you don't have tight stiff muscles, increasing your chance of muscle injury. Avoid overexertion; exercise at a pace that is comfortable for you. Learning correct posture and form can also prevent your muscles being used in an awkward way.
More