Common errors when doing the arm-waves exercise for external rotation (an exercise that helps restore normal range of motion to the shoulder joint) include:
If you experience pain in your shoulder, place thicker pads under your arm until you can feel a stretch with no shoulder pain. Support your wrist and hand with pillows to allow the muscles to relax into the stretch. Otherwise, your shoulder muscles will continue to hold on while trying to stretch and add to joint compression. Slide your elbow down from the 90-degrees abduction position to your side and try again. After the shoulder loosens up, gradually move back into 90 degrees of abduction.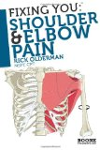 When performing the arm waves exercise for external rotation it is common for the low back to arch or the cervical spine to have increased lordosis. This is a common compensatory pattern, indicating over activity of the pectoralis major, pectoralis minor or the latissimus dorsi. If you observe this motion you have gone too far in to external rotation. When you begin to experience these compensatory motions be sure to contract the abdominals to maintain neutral spine alignment. Keep the shoulder depressed against the floor or table.
Continue Learning about Avoiding Pain & Injury During Exercise