If it hurts to bend your wrists you can perform neutral pushups on your knuckles this will allow you to do pushups in a neutral position where you do not have to bend your wrists. If this position is uncomfortable on the knuckles, perform push-ups on padded surface like a workout mat.
At our studios we do push-ups at a ballet barre to relieve pressure on wrists and shoulders. At home you can use a sturdy waist-high piece of furniture such as a kitchen counter or heavy couch.

Continue Learning about Avoiding Pain & Injury During Exercise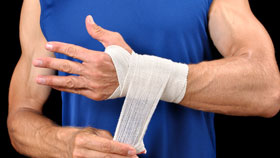 Whether you are involved in aerobics, jogging, cycling or team sports, there are many things you can do to prevent injuries during exercise. Avoid sore arms, leg cramps, muscle spasms and pains by performing warm up exercises. Thi...
s is a must so you don't have tight stiff muscles, increasing your chance of muscle injury. Avoid overexertion; exercise at a pace that is comfortable for you. Learning correct posture and form can also prevent your muscles being used in an awkward way.
More