Performing regular physical activity helps your body maintain the health and integrity of your cartilage as you age. Lack of movement and usage actually impairs your body's ability to maintain and mange the health of cartilage so being regularly active is important for cartilage health. While regular exercise is important some forms are better than others. Extremely jarring and high-impact activities like heavy contact sports like football, wrestling, mixed martial arts, and lacrosse can be very jarring and impair cartilage health and lead to break down. High impact movements like running on hard surfaces can also increase the likelihood of wearing down cartilage tissue, but studies conflict on how much impact it has. A good rule of thumb is to avoid exercises that cause jarring and discomfort in a joint while you perform them, or shortly after performing them.
Aging cartilage is a big problem in the general population, but it can be especially vexing for the master athlete who has no time or inclination to be slowed down by the pain or swelling that often accompanies cartilage that is "running out." Keeping cartilage healthy is a real balancing act for mature athletes. Inactivity and disuse atrophy can decrease the health of cartilage, causing softening, fissuring, and potential mechanical compromise. On the other hand, high-energy, high-impact activity on degenerated cartilage can cause increased wear. If you are a jogger or basketball player over 40, you must take this into consideration by listening to your body and the pain messages it sends. Such messages tell you that you are tired, that there is a problem or damage, or that the soft tissue of your joint is inflamed. When you feel these signals, be smart and stop or moderate what you are doing. You will make no gains by ignoring the pain and continuing to abuse your cartilage.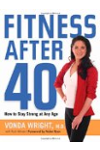 More About this Book
Fitness After 40: How to Stay Strong at Any Age
It's one of the undeniable facts of life. After we reach a certain age, our bodies change. No matter how fit we may have been at 20, we're very different people after 40. But growing older doesn't...
Continue Learning about Avoiding Pain & Injury During Exercise