Your neck should not hurt during exercise. Neck related pain during neck strengthening exercises should be evaluated by a physician to rule out significant underlying issues.
One main reason why it could hurt is improper breathing. When performing lifting exercise be sure to follow regular breathing patterns to prevent valsalva maneuver. Not breathing during exercise can increase intrathecal and blood pressure causing unnecessary head and neck pain. If you are demonstrating proper breathing and pain does not subside you should see a physician for further evaluation. It is highly recommended you obtain a physician evaluation first.
Strengthening exercises for the neck are meant to strengthen specific muscles and, of course, should be pain free. For example, when performing arm slides -- which teaches proper overhead shoulder mechanics and strengthens key scapular (shoulder) muscles -- we are generally targeting upper trapezius strength as well as promoting scapular rotation, elevation, and abduction. Therefore, if you feel fatigue in your shoulders or biceps or feel pain in your neck, then you should stop and pay attention to your form. The effort should be felt in the upper trapezius, between your shoulder and your neck -- and you should not feel pain in your neck after the exercise because it is designed to eliminate pain, not trigger it. So take a moment to visualize the muscles you are attempting to train.

Another method that works well for my clients is to rapidly and briskly tap the muscle we are targeting. Sticking with the arm slides example, you can rapidly tap the upper trapezius muscle, located between your shoulder and your neck to "wake it up." Feel whether it has become harder due to its contraction. Keep tapping it to connect your consciousness to the muscle and develop your awareness of it and get it firing.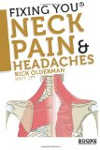 Continue Learning about Avoiding Pain & Injury During Exercise