If you find yourself being too competitive and find yourself risking injury by pushing yourself too far, you might want to consider consulting a sports psychologist to help you find a way to channel your competitive nature in a way that still allows you to compete but not over do things and risk injury.
Yes, this is very common! I think one of the most challenging parts of working out in a group is letting go of expectations and the internal voice that encourages comparisons to our fellow classmates. I encourage you to be accountable for your own success and focus on the integrity of each posture in the moment versus striving for an end goal. Check in often and ask yourself if you feel supported and graceful in each exercise. You will know if it is not right for you. Often you will feel out of control or even sharp pain. These are both signs to slow down and find a good alternative exercise. Being able to do this with confidence is an advanced technique and more important than mastering those fancy yoga postures your neighbor is doing!

Continue Learning about Avoiding Pain & Injury During Exercise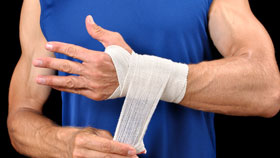 Whether you are involved in aerobics, jogging, cycling or team sports, there are many things you can do to prevent injuries during exercise. Avoid sore arms, leg cramps, muscle spasms and pains by performing warm up exercises. Thi...
s is a must so you don't have tight stiff muscles, increasing your chance of muscle injury. Avoid overexertion; exercise at a pace that is comfortable for you. Learning correct posture and form can also prevent your muscles being used in an awkward way.
More