Autism spectrum disorder (ASD) is a range of complex neuro-development disorders, characterized by social impairments, communication difficulties, and restricted, repetitive, and stereotyped patterns of behavior. Autistic disorder, sometimes called autism or classical ASD, is the most severe form of ASD. Other conditions along the spectrum include a milder form known as Asperger syndrome, the rare condition called Rett syndrome, childhood disintegrative disorder, and pervasive developmental disorder (usually referred to as PDD-NOS). Although ASD varies significantly in character and severity, it occurs in all ethnic and socio-economic groups and affects every age group. Experts estimate that three to six children out of every 1,000 will have ASD. Males are four times more likely to have ASD than females.
This answer is based on source information from the National Institute of Neurological Disorders and Stroke.
Autism is a complex neurodevelopmental disorder affecting people to varying degrees. Symptoms include impaired social interaction, problems with verbal and nonverbal communication, and obsessive or repetitive routines and restricted interests.
From Good Kids, Bad Habits: The RealAge Guide to Raising Healthy Children by Jennifer Trachtenberg.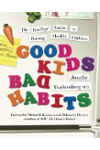 Continue Learning about Autism