Asperger's syndrome, a mild autism spectrum disorder, causes developmental problems in affected children. It is grouped as an autistic spectrum disorder due to the child's difficulty in social interaction with others. Because of this grouping, the term Asperger syndrome, or Asperger's, is a term that is no longer used as a formal diagnosis.
Asperger syndrome (AS) is considered a pervasive developmental disorder at the higher functioning end of the autism spectrum. It is characterized by sustained impairment in social interaction and the development of restricted, repetitive patterns of behavior, interests and activities. In contrast to autism, there are no obvious delays in language or cognitive development, or in age-appropriate self-help skills and adaptive behaviors though there are subtle impairments.
Source: Center for Autism & Related Disabilities (CARD)
*Asperger syndrome, or Asperger's, is a term that is no longer used as a formal diagnosis. In current diagnostic criteria, the syndrome is included under the diagnosis of autism spectrum disorders.
Asperger's syndrome is sometimes referred to as "mild autism," meaning it's on the higher-functioning end of the spectrum. Still, impairments and symptoms may range from mild to severe. Children with Asperger's syndrome primarily have trouble with social and communication skills, but their intelligence levels are generally average to superior. As adults, many have satisfying careers and successful relationships; some have written books about their disorder. It's often rumored that Albert Einstein had Asperger's, and there are compelling arguments for this, but diagnosing long-gone figures is notoriously difficult.
From The Smart Parent's Guide: Getting Your Kids Through Checkups, Illnesses, and Accidents by Jennifer Trachtenberg.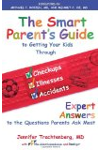 Asperger's syndrome is at the high end of a spectrum of neurointegrative disorders that also includes autism. The condition is characterized by difficulty with communication and social interaction, as well as inflexible or repetitive behavior. Because of these traits, children with Asperger's syndrome can become extremely anxious, especially when the disorder is not recognized early and treated appropriately.
Continue Learning about Autism