Doctors don't know what causes autism spectrum disorder (ASD), but they are working hard to find out. What they do know is that ASD often runs in families, so a person is more likely to have ASD if a close family member also has it.
About one in 166 children are affected by autism, and it occurs in boys 3 to 4 more times often than girls. However, this complex developmental disorder affects people to varying degrees. The cause is unknown, but genetic and environmental factors play a role. It is the result of abnormal development of certain parts of the brain.
From Good Kids, Bad Habits: The RealAge Guide to Raising Healthy Children by Jennifer Trachtenberg.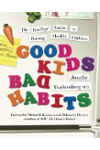 Continue Learning about Living With Autism Spectrum Disorders (ASD)