The early warning signs of an asthma attack in children are shortness of breath, difficulty breathing, chest tightness or pain, wheezing or incomplete breaths that don't feel normal. Any of these symptoms could indicate an asthma attack, and it's best to treat these early rather than waiting. Remember, every child's presentation is a little different for an asthma attack.
If these symptoms are fixed with a rescue inhaler but come back, or if a rescue inhaler seems to be helping less than before, I would be worried about an asthma attack.
While the first signs of impending asthma may differ in each child, the common signs are feelings of pressure in the chest, itchiness in places that can't be scratched (such as inside the rib cage), breathlessness, elongation of the time it takes to exhale and the overall process of breathing becoming more rapid and labored. The particular symptoms for individual children seem to repeat themselves. One 60-year-old we know can still recall his first-ever asthma attack when he was 12. "I suddenly felt, and sounded, like an accordion. I had no idea what was happening to me."
Wheezing, that whistling sound most closely associated with asthma, is actually a symptom of an attack that has advanced beyond the earliest stages. It is usually preceded by a dry cough, and the wheezing itself is generally heard only at the end of exhalation. The child can talk in sentences, although with some difficulty, and may want to lie down to breathe more comfortably. At this point the breathing may be slightly labored as the respiratory muscles are not retracting. Some signs of agitation may accompany the rapid breathing and prolonged exhalation at this mild stage.
The peak flow rate—air flow out measured by a simple device—will be about 80 percent of the child's best measurement.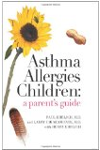 More About this Book
Asthma Allergies Children: A Parent's Guide
Asthma and allergies are at epidemic proportions. It doesn't have to be that way. Two experienced pediatric allergists tell everything a conscientious parent needs to know about these conditions,...
Here are some of the "early warning signs" that people have reported:
sighing a lot
getting "the look"—a tense, worried face or circles under the eyes
having a "tickle" in the throat, clearing the throat a lot
a "full" feeling in the chest and difficulty taking a deep breath
Early warning signs of an asthma attack in a child who is symptom free would be the development of cough, wheeze or difficulty breathing. In children who are already experiencing symptoms, any worsening of the symptoms (more intense and/or more frequent) would be additional signs of a developing asthma attack.
Children can have many different early warning signs for asthma. For some, a mild cough is the start. In others, breathing becomes more shallow or more rapid. Less active play is yet another sign.
Talk to your child's pediatrician about what could be your child's early warning signs and use their rescue asthma medicine at the first sign.
Continue Learning about Asthma Symptoms