A variety of add-on controller medications is the long-acting bronchodilators, such as salmeterol. They reportedly help reduce the dose of inhaled corticosteroid needed to maintain control. They also help reduce nighttime flares and are of benefit in exercise-induced asthma.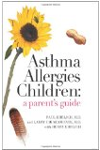 More About this Book
Asthma Allergies Children: A Parent's Guide
Asthma and allergies are at epidemic proportions. It doesn't have to be that way. Two experienced pediatric allergists tell everything a conscientious parent needs to know about these conditions,...
Continue Learning about Asthma Medication