Asthma from food allergy is relatively uncommon. Asthmatics are more likely than non-asthmatics to experience severe allergic reactions to foods, and asthmatics have a higher risk of death if they experience food anaphylaxis.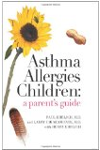 More About this Book
Asthma Allergies Children: A Parent's Guide
Asthma and allergies are at epidemic proportions. It doesn't have to be that way. Two experienced pediatric allergists tell everything a conscientious parent needs to know about these conditions,...
Continue Learning about Asthma Causes