Recent studies have shown that the smooth muscle surrounding the airways in asthmatics contains dramatically more mast cells than that of people without asthma. As with any allergic response the chemicals in the mast cells, the mediators, not only prompt spasm of the muscle itself, but increase mucus production, and draw other cells to the area, leading to an inflammatory response. These cells and the mediators lead to the increase in "twitchiness" of the airways characteristic of the asthmatic's lung.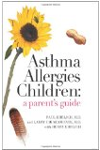 More About this Book
Asthma Allergies Children: A Parent's Guide
Asthma and allergies are at epidemic proportions. It doesn't have to be that way. Two experienced pediatric allergists tell everything a conscientious parent needs to know about these conditions,...
Continue Learning about Asthma Causes