Asthmatic airways are hyperactive and dry; cold air can be more irritating.
Do you find it impossible to take a long, deep breath when the air turns cold? Frigid air can be rough on just about anyone's lungs, but it's extra tough on people who have asthma, because asthmatic lungs are primed for irritation. You may need to take extra precautions before going out in the cold, like wearing a scarf around your mouth and nose. Same goes for exercising in cold weather.
If an asthmatic goes directly from warm inside temperatures to cold outside temperatures, the shock causes bronchospasm. So, if you have asthma, I have a couple of suggestions regarding what to do before exercising outdoors in cool weather, one that involves medicine and equipment and one that does not.
Simply take a few laps in a warm gym before going outside. The flow of air in and out of the airways cools the lungs before they warm up again with exercise. It is better to gradually pre-cool the airways with an indoor warm-up so that the contrast will not be so great.
The other is to take Proventil or another beta-agonist spray twenty minutes before exercise to prevent bronchial spasms and to wear a facemask of the kind used by carpenters to trap and prewarm air, then engage in a normal warm-up. Studies have shown that rapid cooling of the airways followed by re-warming causes coughing in some and wheezing in others. Warmed and moistened air will minimize this response, which is why asthmatics have few wheezing problems swimming in pools, where the water is continually evaporating.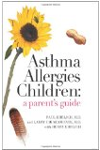 More About this Book
Asthma Allergies Children: A Parent's Guide
Asthma and allergies are at epidemic proportions. It doesn't have to be that way. Two experienced pediatric allergists tell everything a conscientious parent needs to know about these conditions,...
Continue Learning about Asthma Causes