Aspirin helps prevent heart attacks by inhibiting platelet aggregation, or clumping. Clumping is essential to clot formation, and clot formation is an important component of blockages in coronary blood vessels that lead to heart attacks. Heart attacks most commonly occur when a cholesterol plaque in a coronary vessel (which supplies the heart with blood) ruptures and creates a blockage.
Heart disease ranks as the leading cause of death. To help prevent a heart attack, get into the habit of taking two baby aspirin (81mg each) before bed. Here's why: In the morning, your blood is stickier and moves at its slowest pace. This makes you more vulnerable to clotting, which can lead to a heart attack. In fact, 25% of heart attacks occur within three hours of waking. By taking a baby aspirin at night, you'll wake up with thinner blood that flows more easily to help prevent blockages in your arteries.
Daily aspirin therapy is used to help prevent both heart disease and stroke in individuals who are at elevated risk for these events, as well as to prevent further damage in those who have already suffered them. This latter group gets the most benefit from aspirin treatment, and sticking with their daily aspirin regimen long term can help to prevent another heart attack.
We think aspirin helps keep the arteries free of clots and prevents heart attacks in two ways. First, aspirin decreases inflammation in the arteries. Second, it inhibits the prostaglandin system, an enzyme system that causes platelets to stick together (clot). Aspirin also seems to prevent aging of the blood vessels in other ways. For example, aspirin may help the body build auxiliary blood vessels, so that if and when clots do break off, enlarge, and clog blood vessels, the body has alternate routes for blood flow around the clogged vessel. Aspirin may help decrease inflammation in the walls of the blood vessels that are caused by infections elsewhere in the body (or those that are caused when particles such as homocysteine attack blood vessel walls), and thus prevents turbulent blood flow that can lead to fatty buildup.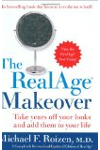 Continue Learning about Aspirin