To answer this, we need to divide patients into two groups: those who already have heart disease, and those who do not.

In those who do not – we call this primary prevention (meaning preventing something they don't have yet) – taking aspirin reduces the risk of a first heart attack. This has been shown in both men and women. However, it also increases the risk of intestinal bleeding and bleeding in other sites, so the decision to take aspirin for primary prevention truly depends on the individual and his or her risk factors.

Your doctor will look at what your own risk factors are for heart disease and how many you have, like high blood pressure, cholesterol and smoking, and weigh that against your risk of bleeding and other side effects.

For secondary prevention -- (ie preventing another heart attack in someone who already has heart disease) -- the evidence shows that aspirin significantly reduces the risk of heart attack and has an even greater benefit than for primary prevention.
Aspirin is not a safe medication for everyone; it's only recommended if you have multiple risk factors for heart disease, so consult your doctor before taking it. Watch cardiologist Suzanne Steinbaum, DO, discuss the warnings and benefits of aspirin.
When it comes to aspirin therapy, there are differences between the genders. Women benefit a little less in their forties and fifties from aspirin than men because woman usually don't develop cardiovascular disease until menopause, which usually occurs after fifty. Unfortunately, most of the aspirin studies don't provide specific data on women. Since the cardiovascular systems of men and women do not differ significantly, and on the basis of what we know about women's health and aging in general, I feel comfortable recommending that women start taking an aspirin a day around the time of menopause.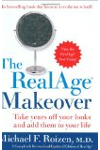 Continue Learning about Aspirin