Aspirin protects the heart by interfering with blood clotting. Aspirin causes clotting cell (platelet) function to be impaired and, hence, decreases the clumping of platelets.
When there is a heart attack, blood clot is formed at the site of the blockage, which then impedes blood supply to the part of the heart muscle beyond the blockage. This clot has platelets in them. So, decreasing platelet activity reduces or eliminates this "bad" blood clot and, thereby, prevents heart attacks or decreases the severity of heart muscle damage.
The heart muscle receives its food and oxygen via three arteries that run on the outside of the heart. These are called coronary arteries. With age, these arteries can get partially obstructed by deposits of cholesterol. Blood can then form a clot in the narrowed artery, obstructing flow. This leads to a heart attack, or myocardial infarction. A portion of the heart muscle dies or is damaged permanently.
Aspirin is a mild blood thinner that can reduce the formation of clots in the coronary artery. The blood contains certain cells, called platelets. These cells stick to the walls of the narrow coronary artery, and clump together to form a clot. Aspirin prevents the platelets from sticking together.
Omega fatty acids (found in fish oil) also prevent clumping of platelets and can protect against heart attacks.
Who would ever have thought that one little white pill could have such a powerful effect on the heart? But the evidence that aspirin helps prevent cardiovascular disease just keeps growing. One well-controlled study, for instance, showed that taking aspirin regularly reduced the incidence of heart attack by 44 percent. It is thought to achieve this in several ways, including making platelets less sticky and decreasing inflammation in the arteries.

One primary downside is aspirin's effect on the stomach lining-it is acidic, and because it inhibits clotting, it can cause more bleeding in those who have stomach ulcers. You can reduce those side effects by drinking half a glass of warm water before and after taking a pill.

However, it is so beneficial against heart disease that men over 35 and women age 40 and above should consider taking half a regular aspirin (162.5 mg) a day for life (it takes at least three years to establish the full benefit). An aspirin a day makes the average 55-year-old 2.3 years younger in RealAge.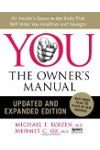 Continue Learning about Aspirin