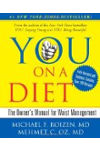 There's no clear-cut data on which alternative sweeteners work most effectively, but here's how I rate them:
Sucralose (Splenda): Discovered in 1976 but not introduced for widespread use for many years. More than 500 times sweeter than sucrose, stored in body fats, suitable for baking and does not affect levels of blood sugar. The research is least complete on this one, but go ahead and keep it in the cupboard. It's too new to know any of the long-term effects, but it appears the most promising -- and it's the best one to use for cooking.
Aspartame (Nutra-Sweet): Entered the market in 1981. Several studies have shown that it has adverse health effects, but those studies were very limited. It's come under a lot of scrutiny and has basically stood the test of time. But it's the sweetener that hangs around the longest in your body, and it cannot be heated -- it turns into formaldehyde (which could help you save on funeral expenses). It's also rumored to limit the brain's ability to use certain vitamins, antioxidants, and magnesium.
Saccharin: Has been around since the early 1900s, and while some studies showed health risks, those studies have significant limitations. It appears to be one of the safest sweeteners, and the only one with real long-term data, even if some of it is not positive (if you consume more than 80 12-ounce diet sodas a day, you're at an increased risk of bladder cancer -- good luck!)
Agave nectar: It's a hyper-sweet natural substance. Try it. While it's very high calorie, you only need a fraction of the amount of sugar to gain the same level of sweetness.
Stevia: A non-caloric, natural herb. Taste isn't ideal, and seems to lower sperm counts in some studies. For the taste and the potential side effects, no thanks. No diet drink is worth sterility.