Possible side effects of steroid injections for arthritis are:
bacterial infection
bleeding
injury to nearby ligaments, tendons, muscles or nerves
This content originally appeared on http://blog.doctoroz.com/oz-experts/slow-medicine-for-arthritis
After the injection, the joint might feel numb, and the pain can return when the anesthetic wears off. It may take 3-5 days to experience the steroid's maximum effect, although everyone responds differently. Take it easy after an injection for the rest of the day, and don't do more than a bit of light walking if the injection was in a weightbearing joint.
Any symptom relief gained from a steroid injection is temporary, and this period of relief should be seen as a "window of opportunity," during which you can participate more fully in a structured physical therapy program. The symptom relief achieved from an injection can hopefully be maintained and even improved upon with exercise, in conjunction with appropriate diet and supplements.
Rarely, after a steroid injection for arthritis, a joint can have a "post-injection flare" in which symptoms temporarily worsen. The flare will generally subside within 48-72 hours. If this happens to you, call your doctor for further care, and also to help rule out an infection.
In addition to the effects on the joint, steroid injections can raise blood sugar levels, so people with diabetes need to be especially aware of this potential side effect and discuss it with their doctor. A steroid injection can change the pigmentation of the skin, making it lighter. This is a rare complication, but it is a potential problem, particularly in people with darker skin. There are other side effects, and some people are not good candidates for steroid injections. If you are taking a blood thinner, you may need to discontinue it prior to the injection. It is important to discuss the potential benefits and risks with your physician. If you do have a steroid injection, be sure to have it done by a qualified, experienced professional.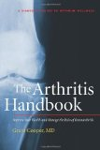 Continue Learning about Arthritis Treatment