Topical pain relievers are probably more effective for treating arthritis in peripheral joints, such as the fingers, wrists, elbows and knees. However, they might also be worth trying if you have arthritis in your hips or other deeper joints.
The primary advantage of topical medications is that they are usually the least invasive option because you don't ingest them, which decreases the risk of side effects. For example, topical capsaicin has been shown to be helpful when applied 4 times daily.
Consider all that has to happen for the painkilling ingredient in a swallowed pill to reach your sore joint(s). It reaches your stomach, where it is digested before being absorbed into your body in your intestines. The medication is now in your bloodstream, and will reach essentially all of the cells in your body, most of which do not need it. Finally, it must be broken down and metabolized by your liver and/or kidneys, and the resulting products of the breakdown excreted. This long journey can lead to a variety of systemic side effects, including injury to the stomach (a common problem), liver and kidneys, as well as other parts of your body, depending on the medication ingredients. By contrast, a topical analgesic has minimal, if any, systemic absorption. It bypasses the digestive tract altogether.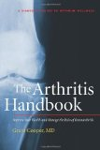 Continue Learning about Arthritis Treatment