Gentle on the joints, tai chi and qigong exercises improve overall flexibility and strengthen the joints. In my clinic, I teach a simple 30-minute daily practice called Eight Treasures qigong, which has been passed down through my family. It has been clinically shown to strengthen bones and joints and prevent arthritis. Best of all, it is far less stressful and strenuous than other types of physical exercise, and particularly emphasizes stretching and the strengthening of joints, tendons and muscles. Most licensed practitioners of Chinese medicine are able to teach some form of qigong and tai chi exercises, or you can learn from an instructional DVD.
Anyone can benefit from strength training, and everyone, to some extent, should include it in her exercise routine. When done in conjunction with stretching and aerobic exercise, it will improve your mobility, decrease pain and help prevent worsening of arthritis symptoms. The kind of strength training you should do to treat and prevent arthritis is somewhat different than the kind that adds muscle bulk.
Arthritis involves the loss of some of the cushioning effects of cartilage in a joint. The joint may be painful, swollen and need protection. Strong, flexible muscles help protect the joints. By being well-toned, the muscles that surround a joint provide a buffer, so the ligaments, bones and joint capsule don't have to absorb all of the forces acting on it.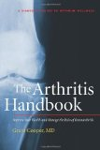 Continue Learning about Arthritis Prevention