While arthritis is more common as you age, thanks to the impact of time on the cushiony cartilage that prevents joints and bone from rubbing against one another, age itself doesn't cause arthritis.
There are steps you can take in your youth to prevent it, such as losing weight, wearing comfortable, supportive shoes (as opposed to three-inch spikes) and taking it easy with joint-debilitating exercise like running and basketball. One study found that women who exercised at least once every two weeks for at least 20 minutes were much less likely to develop arthritis of the knee (the most common location for the disease) than women who exercised less.
Whether you've had arthritis for years or you've just been diagnosed, here are ideas for being proactive about managing your pain.
Wear driving gloves for hand pain. If your hands and fingers are very sensitive and painful, driving gloves (the leather type that covers your hand and leaves the tips of your fingers free) might give you enough support and protection to make daily activities less painful. Try them when carrying packages or groceries, carrying hangers, changing bedding -- anytime your hands give you trouble. Elastic gloves, designed for carpal tunnel or computer use, are another option. Ask your healthcare professional about the type of gloves you should wear and where to find them.
Put your feet up. To take pressure off your legs and back when seated in a chair, car or bench, do not let your legs dangle. If you do not have a footstool, put a box or books under your feet.
Stay warm. Cold joints are often stiff and sore joints.
Use a hand massager or vibrating head and neck pillow to help ease the pain when you are bothered by stiff, tight or achy muscles. Some vibrators or massagers are designed to hold in your hand and massage the spine; others cover the back and/or seat of your chair for an all-over massage experience. Some just vibrate; others have rolling parts inside that massage more vigorously. Some allow the addition of soothing heat with your massage. There's even a neck pillow designed to strap onto the back of an office chair or car seat. Remove the detachable strap, and you can position the pillow to massage your neck, back, shoulders, legs and feet. Because the pillow vibrates quietly, you won't disturb others if you use it in bed or during a meeting, and it is great for long car rides. Vibrating massagers are sold in drug and department stores.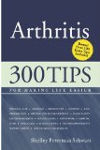 More About this Book
Arthritis
Arthritis: 300 Tips for Making Life Easier is a compendium of tips, techniques, and life-task shortcuts all learned from personal experience. Author Shelley Peterman Schwarz has lived with a chronic...
For arthritis relief, good walking shoes and low-intensity exercise is important. Losing weight over time will help the joints to carry less weight. From an alternative standpoint, some high-dose omega-3 fish oil, turmeric, and believe it or not, vitamin D in a therapeutic doses, actually help relieve lot of musculoskeletal pain in general.
Some forms of arthritis can be treated, but types of arthritis like osteoarthritis are simply the gradual compromise of the joint from wear and tear. Autoimmune arthritis can be treated with anti-inflammatory medications and autoimmune medications, while septic arthritis is a problem with infection affecting the joint that can be treated with antibiotics. Generally if you are hard on your joints, then there is a higher likelihood of having arthritis.
It's important to make sure you stay active and maintain a healthy weight. A healthy diet and regular exercise go a long way in preventing this condition.
The best way to prevent arthritis is to avoid being overweight, since that puts stress on the joints of the lower body, particularly the knees. Also, try to avoid abnormal joint stress by wearing proper shoes and by keeping the muscles around the joints strong and well supported. Consider cross training to prevent any single exercise from constantly wearing on the same joints over and over.
Arthritis is not inevitable. The more aggressive we are in preventing and treating the early symptoms, the more we can reduce the probability of developing arthritis and/or allowing it to worsen.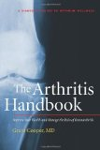 Currently, there is no certain way to prevent any form of arthritis. In general, though, a healthy lifestyle may help reduce your risk or reduce your symptoms. A diet that is low in calories and saturated fats and high in whole grains, fruits and vegetables may be helpful. Regular exercise, especially swimming and anything that involves stretching, may reduce your risk. Exercise and diet can help you maintain a healthy weight, which also may help reduce your risk for arthritis. Exercise with care, though; avoiding overuse or injury to the joints may also reduce the risk of osteoarthritis.
Continue Learning about Arthritis Prevention