If you're experiencing symptoms of any form of arthritis, it's probably best to see a doctor. Some secondary symptoms of arthritis, such as fever, weight loss, rash and difficulty breathing, can be an indication of another problem, so it's important to have a doctor properly diagnose your condition. If your doctor does determine that it may be arthritis, you may be referred to a rheumatologist, or an arthritis specialist. It's important to get medical attention as early as possible to prevent potential bone loss or loss of range of motion.
The first step in the diagnosis of arthritis is a meeting between the patient and the doctor. The doctor will review the history of symptoms, examine the joints for inflammation and deformity as well as ask questions about or examine other parts of the body for inflammation or signs of diseases that can affect other body areas. Furthermore certain blood, urine, joint fluid and/or X-ray tests might be ordered. The diagnosis will be based on the pattern of symptoms, the distribution of the inflamed joints and any blood and X-ray findings. Several visits may be necessary before the doctor can be certain of the diagnosis. A doctor with special training in arthritis and related diseases is called a rheumatologist.
Most people with straightforward signs and symptoms of arthritis may not require more than an X-ray. However, your physician will make that determination in order to help ensure that a more serious underlying disorder does not go undiagnosed and untreated. In addition to X-rays, CT scans and/or MRIs, your doctor might order blood tests to help rule out infection, types of arthritis other than osteoarthritis, cancer and other problems.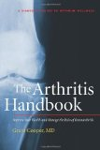 Arthritis can be diagnosed with a simple physical exam and review of your medical history. If any questions remain, lab work and imaging may be indicated.
Continue Learning about Arthritis Diagnosis