An x-ray can show the damage done to the bones of the joint due to loss of protective cartilage and bones rubbing directly against each other.




Continue Learning about Arthritis Diagnosis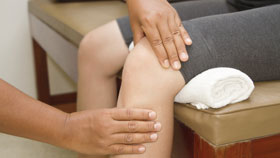 Doctors diagnose arthritis with a medical history and physical exam to check for joint inflammation and deformity. Your doctor may also order lab work like blood, urine and joint fluid tests. X-rays are commonly used to check for ...
cartilage loss in the affected joints, narrowing of the space between bones and the existence of nodules. Following the initial diagnosis, x-rays are also used to mark your arthritis progression.
More